Work and Hammer.
Warning!! Long post ahead…
My blog has been abandoned for awhile now, that's coz my life has been busy since I started working at Universal Storefront Services Corp. (USSC), Western Union Agent as a Customer Service Representative (contractual for 5 months). I am  assigned to answer flight inquiries and booking airline and ferry tickets
. I started first week of February and will end on June 30. I'll soon be out of work again so I'm taking it all in and enjoying it while it last. My 2 bosses/co-workers (Branch Manager and Assistant Manager) are kind to me, they are so funny and fun to be with which takes all the pressure that goes with the job.

Aside from having a job, I also got me a puppy
that has been taking most of my time even on my days off. It's like having a baby lol! I have to be a responsible dog parent and sometimes I fail at that but he still loves me
. His name is Hammer, my sister-in-law actually got him from her family back in Butuan. They had him for more than a month but then my brother has two little kids and they are worried that they might get bitten, they had no time to train him with their busy life joggling between running a family, taking care of two kids and their own little business plus my sister-in-law got a new job and they wanted to return him back to her parents. I came to love Hammer and I dreaded the thought of him getting transferred back and forth that I decided to take him in. He knows me and I had been spending time with him whenever I'm at my bro's internet cafe/apartment. I haven't had a dog in awhile so it was a big adjustment for me especially with work but I see to it that I make time for Hammer. The rest of the time I have would be to chill and catch up on my fave shows and watch movies whenever I can or when Hammer is asleep.
Anyway, I'm suppose to only have a morning off today but my boss postponed her bank appointment so I got me a full day off, which turned out to be a  perfect timing that the City Vet came to get Hammer neutered along with 2 other puppies from my Aunt and cousin. I was worried who would hold him down if I'm at work. Finally it was done, It took a little time for them to have him injected with the tranquilizer. I have to calm and hold him down. I was nervous but had to keep calm too, so as not scare and stress him more. It took a bit of time for the tranquilizer to take effect on him maybe because he was a hybrid dog? Hammer is a Labrador-German Shepherd cross. They asked me about it too.  He's still weak and groggy because of the anesthesia, he's been sleeping and I'm expecting him to be sleeping for a long period of time. He also has been trying to lick his incision, I told him with a soft "no" and he stopped. I'll have to monitor his incision and have my Ma keep an eye on him when I'm at work.
Here's Hammer resting and recovering after getting neutered.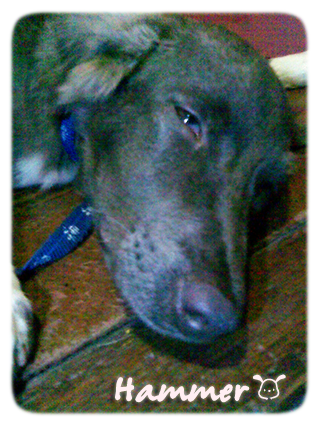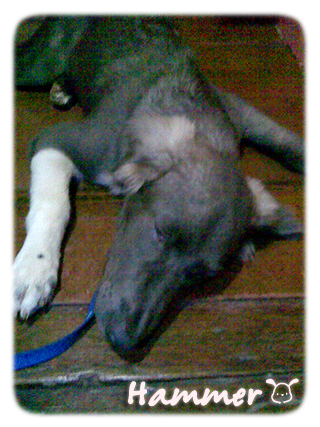 Name: Hammer
DOB: Dec. 20, 2011
(I had him when he was 2 mos. old. He'll be 5 mos. old this coming May 20.)
Ok, off to take care of Hammer and have dinner now. God Bless everyone!
Toodles!


1 comment on this post