Yesterday i got my winning items arrived via Fedex/Air21. Yes! I won 2nd on Hoshigirl's Giveaway contest for her blog's 3rd year anniversary.
 Yay! I was happy and excited when I learned about it. There were lots of people who joined the giveaway so needless to say I rounded my luck to zero haha and I didn't wanna keep my hopes up because you know how that feels, but hey I won! 

So here's what I got: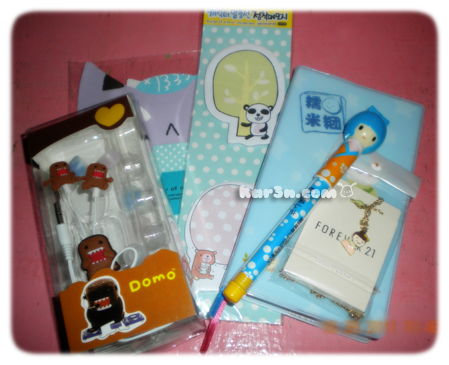 $10 sent via paypal (now i have moolah to renew this domain for another year. hehe)
cute girl necklace from Forever21
Domo Earphones
Kawaii Daily Planner
Kawaii Sticky Set
Cat Stationery
Japanese Girl Pen.
I love it! The Planner, domo earphones and the japanese girl pen are my fave! lalalala! Now I wanna buy a big cute colorful box where I could put all my cute stuff…hmm treasure chest! lol!
Thank God for the blessings and Gel for this opportunity! Belated Happy 3 year old to Hoshigirl [dot] com 
!!
Happy Weekend Everybody and God Bless! 


Toodles!